How design helps you validate your product ideas within our Discovery Framework
Design plays a vital part in understanding the people who will use your product​
What is the BoatyardX Discovery Framework?
Our Discovery Framework is a hugely important part of our work here at BoatyardX. It helps your company understand the biggest product development risks and open questions, and forms the foundation for our development team to build on.   
Discovery is rarely straightforward. You have to be ok with ambiguity, comfortable with discomfort, and always trust the process. We've been through enough of them to know now that you always get something valuable in the end. It will help you decide whether to preserve, pivot or pull the plug and give you the confidence to continue on your product journey.
Projects come to us in all shapes and sizes, from completely new concepts that are just an idea in someone's head,  to large enterprises that already have a successful product in the market but are struggling to scale, and everything in between. We've successfully taken New York investment bankers and Irish Dairy farmers through the same process, delivering real, tangible value to both.  
Product development can be viewed through three lenses: 
Our team specialises in two of these three lenses, customer desirability and technical feasibility. While we do facilitate and help with some commercial exercises, it's typically you who will bring the commercial expertise to the table.
Discovery increases the confidence level of two of the three lenses of product development. 
Our approach is highly collaborative and our multidisciplinary team, which includes product designers, solution architects and business analysts, will work closely with you to reach a shared product vision. We take a people-centred approach and utilise a design thinking methodology so the end user is at the heart of our decision-making throughout. This structured problem-solving will lead you to that 'aha moment'. To learn more about the Discovery Framework you can read about it here.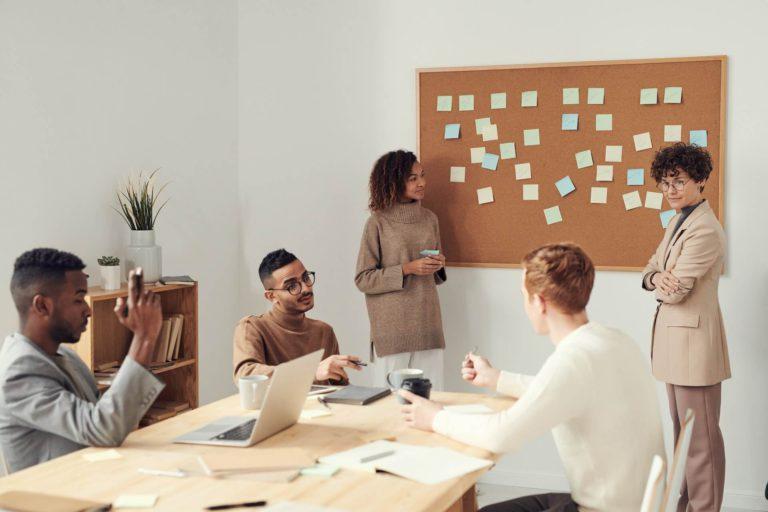 In this article we're going to focus on the role of the design team.  
Design plays a vital part in understanding the people who will use your product 
We use a design thinking methodology, which means that the people who use the products will always be at the forefront of our minds when we're designing and building those products. The design team are the advocates for those people. Trying to find out, through both quantitative and qualitative research, what their goals are, what their current situation is and what their frustrations are. The user needs are vitally important in designing a useful product. This is of course always balanced with the needs and goals of the business along with the technical limitations that exist. A great product balances these three parts well. 
Many people unfamiliar with the design process may think it is just drawing pictures of nice-looking screens, and while sure aesthetics are important, but it's also about problem-solving and communication. As designers, we're merely the medium for our clients, who are the experts, to communicate their great ideas to their target users in the most efficient, simplest way possible.  
Design is key to facilitation and collaboration. 
Our design team, like all good designers, are masters of facilitation. The first steps will consist of collaborative workshops with you and any subject matter experts that you might want to include. The exercises we do in these workshops act as tools for extracting information from peoples' heads in a structured way. First, we'll be looking to learn about you, your idea, and the vision for the project before trying to learn about the end users. 
Some of the steps we'll go through with you are: 
Product definition and vision – in a succinct couple of sentences we will define what your idea is, who it's for, the value it brings and what the overall goal within five years is. 
Persona mapping – from your own research or knowledge we'll build personas for the target user in order to always keep them at the heart of all our decisions. 
User journey mapping – illustrating the ideal journey the user could take with your new product and what they need to do at each step. 
This is just a selection of exercises; we have many others that we choose from and tailor to your specific needs. 
As designers we facilitate collaboration between our team and yours, but our job is also to facilitate a good relationship between the stakeholders representing the user needs, the business goals, and the technical feasibility to get them working together as seamlessly as possible. 
This builds a critical amount of shared understanding, momentum and a solid foundation should you move into the build phase. 
If you have a new concept or existing product and are considering taking the next steps, we would love to discuss if a BoatyardX Discovery project can help you achieve your product vision. 
Reach out at  letsgettowork@boatyardx.com