CultureTech partners with BoatyardX to create a digitized licensing marketplace for works of art – connecting IP owners with those wishing to use this IP – meeting the growing demand for content on the web and elsewhere.
Key Challenges
Licensing artwork for use online or offline is tedious, time consuming and expensive – discouraging licensing
For IP owners the costs associated with licensing their artwork can be prohibitive, reducing their licensing revenue potential
Solution

A SaaS cloud-based platform, developed in partnership with BoatyardX, that allows IP owners to automate and simplify the processes associated with licensing artist works for use in online and offline environments


Business Benefits
Substantially reduced time and resources, and associated costs, for IP owners and users to license artwork.
Significantly increased licensing fees for IP owners
CultureTech is making art more accessible to the world, by streamlining, automating and simplifying the processes associated with the licensing and rights management of artist works – connecting IP owners such as museums, galleries & artists, foundations & estates and researches & academics, with those seeking to license artwork for use in online and/or offline environments. BoatyardX teamed up with CultureTech to position them for international expansion.
The bottom line for why we chose BoatyardX as our partner is its capabilities across the full product lifecycle – from design through to build, and then launch – and then to work alongside us as we grow the platform and our customer base
says CultureTech CEO, Richard O'Leary.

What did the CultureTech / BoatyardX partnership deliver?
Platform to streamline the process of art licensing for museums and other IP owners

Back end solution with integrated workflow engine and collection browsing capability

Continuous rapid delivery of new capabilities and features following launch, based on an agreed quarterly rolling roadmap and backlog prioritization approach

Post solution launch support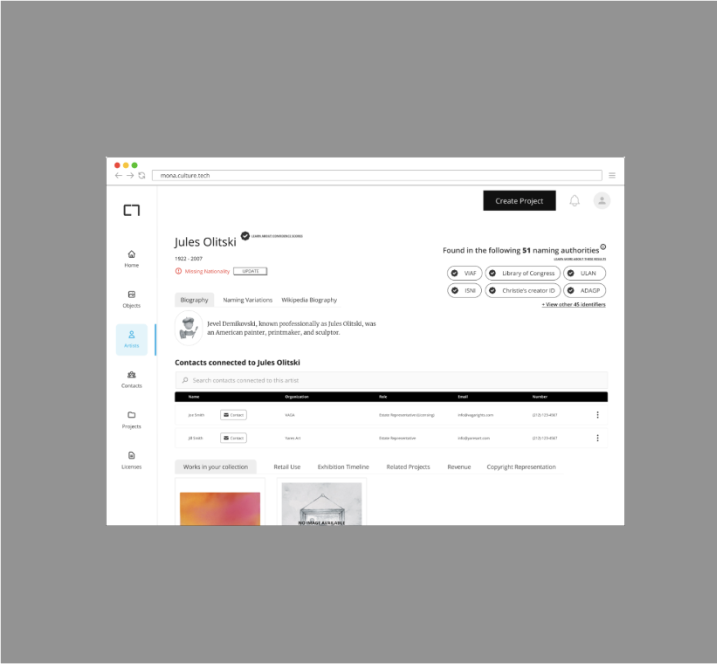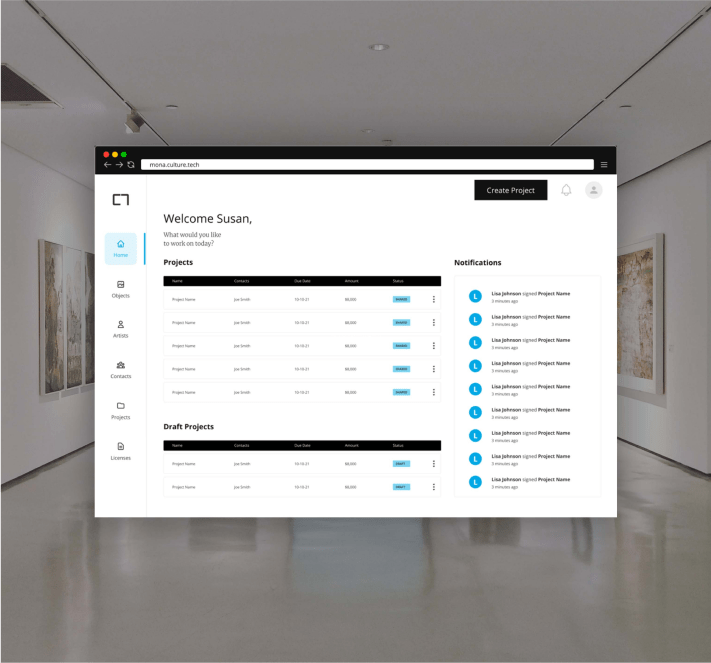 For those wishing to access and license artist works for use in online content (such as a digital catalogue, website or video) or offline (such as in print) the process is typically tedious, time consuming and expensive – and relies upon e-mail, phone calls and paper-based processes – between the IP-owner and the prospective licensee.
Equally, for IP owners of artist works, given the manual nature of existing processes, the costs associated with licensing and rights management, can make it prohibitive – in turn reducing the licensing revenue potential from valuable pieces of art.
CultureTech's SaaS-based platform allows IP owners – museums, artists, foundations, estates, galleries – to streamline & automate the licensing process.
Usage right parameters may be assigned to object records including: license type (e.g. commercial, scholarly), usage type (e.g. printed or digital catalogue), geography, start/end date, price. A project or request is created for each license.
All communications are managed through the CultureTech platform – ensuring a verifiable & secure record is maintained of all relevant documentation – with notifications issued to each party as required to ensure the licensing process is completed as efficiently as possible.

"The level of service from BoatyardX was just far beyond what we could find anywhere else and this gave us the ability to scale up our business really quickly"
says CultureTech Design & Development Lead, Christopher Vicini
Engagement between CultureTech and BoatyardX
An integrated team approach was adopted between the two organizations, combining product, design and technical capabilities, in order to deliver at pace. The engagement was kicked off with a series of discovery workshops. These workshops created space for everyone to work together and explore, analyze and challenge many aspects of the proposed platform and the business proposition. By analysing multiple data sources, a clear understanding of the customer need was attained, and this was used in defining the scope of the platform. The key areas focused on were: • The business model • Customer experience • Adding value for users During the discovery phase, a key go/no-go project risk was identified – the potential inaccessibility of tombstone and digital data within museums and other IP owner institutions, given the numerous platforms of varying technologies used by these organizations. A technology spike was undertaken in order to eliminate this risk, where 2 museums allowed the project team to securely access their data, and where it was proved that the required data could be extracted and utilized.
To date, the CultureTech platform has been deployed by over 10 museums, artists & galleries, foundations & estates and researchers & academics, across North America, including many of the world's most highly regarded institutions. The platform has allowed these organizations to significantly reduce the time and resources required to license their collections of artistic, cultural, historical, and scientific artifacts and other objects of importance, whilst driving increased licensing fees for IP owners.
BoatyardX Services
Product architecting and planning

Full-stack development

UI/UX design

Reference Cloud

Architecture deployment

Data engineering / data science

DevOps

Lifecycle management

Business & technology strategy support
Technologies
Architecture: BoatyardX reference architecture

Frontend: Native JavaScript, Vue.js, WebPack

Backend: Java, SpringBoot, Maven, Docker

DevOps: AWS, Kubernetes

CI/CD: Jenkins, SonarQube, Gitlab

AQA: Cypress

UI/UX design: Figma